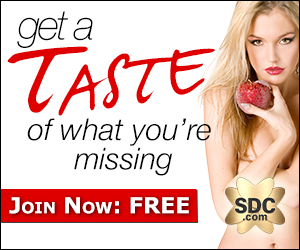 >
sdc.com
Swinger sex parties, orgies, fetish & BDSM clubs, party naked with sexy cheating wives.
[Salem] Monthly off-premise swingers' dance parties for couples and single women, with occasional special events. Site includes FAQ and calendar of events.
Swinger Clubs - USA club
Salem,Oregon

www.salemdance.com
---
Monthly free swingers party from the Ace of Hearts swingers club in Portland Oregon. Broadcast live on the web.
Swinger Clubs - USA live swingers party
Portland,Oregon

www.aceswired.tv
---
Ace Of Hearts - Oregon's premiere and only on-site erotic swingers-nightclub. Operating for over twelve years, membership in excess of four-thousand, AOH provides a safe, sane, and consensual location for adults to explore their sexuality. Ten-thousand square feet of erotic space; 3-hottubs - large dance floor - clean private & group showers
Swinger Clubs - USA on premises swingers club
Portland,Oregon

www.aceofhearts.org/
---
The only on-premise gangbang club in the Pacific Northwest. This is the hottest sucking and fucking the Rose City has ever seen. See why our GangBang parties have the City of Roses & the Pacific Northwest talking.
Swinger Clubs - USA on premises gangbang party
Portland,Oregon

www.acegangbangcrew.com
---
Nightshift-nw the northwest's hottest couples only dances in the Portland, OR - Vancouver, WA area. Entertaining the thought of swinging or already in the lifestyle, Nightshift-nw dances are a great way to meet other like minded couples. Dirty dance, flirt and have a fun evening. Nightshift-nw has a cash bar, professional DJ, hotel setting (for those private after dance parties), dance floor, no pressure environment. Join us at one of our dances! For more information visit our website at www.nightshift-nw.com or Email us at dance@nightshift-nw.com
Swinger Clubs - USA Join Us Soon For a Fun Evening!
Portland,Oregon

www.nightshift-nw.com
---
Record(s) 1- 5 of 5
Oregon Swinger Parties by City
Swinging, sometimes referred to as the swinging lifestyle, is "non-monogamous sexual activity, treated much like any other social activity, that can be experienced as a couple."[1] The phenomenon of swinging (or at least its wider discussion and practice) may be seen as part of the sexual revolution of recent decades, which occurred after the upsurge in sexual activity made possible by the prevalence of safer sex practices during the same period. Swinging has been called wife swapping in the past, but this term has been criticized as androcentric (taking a male-oriented point of view) and inaccurately describing the full range of sexual activities in which swingers may take part.
Oregon Swinger Parties by City
---