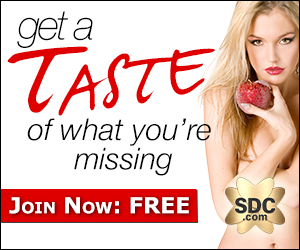 >
sdc.com
Swinger sex parties, orgies, fetish & BDSM clubs, party naked with sexy cheating wives.
[Rahway] Couples only, hosted in a private home, overnight stays are welcome. Includes party dates and expectations. BYOB. 21+ years, membership required.
Swinger Clubs - USA club
Rahway,New Jersey

www.geocities.com/SouthBeach/Lounge/3430
---
[Atlantic City] Private club for couples and single women. Site includes an article with the owner explaining the club's flexible schedule.
Swinger Clubs - USA club
Atlantic City,New Jersey

www.intimatefriends.org
---
Couples and their guests only. Overnight stays available. BYOB.
Swinger Clubs - USA club
,New Jersey

www.topothehill.com
---
Toga Joe's Adult Lifestyle Events are for Sexy, Attractive Couples and Single Women who wish to surround themselves with the same. Sexy, Erotic atmosphere, where they can explore their Deepest Fantasies with each other in a no-pressure environment.
Swinger Clubs - USA off premises swinger club
Central New Jersey,New Jersey

www.togajoe.com
---
Caligula's Temple is an Upscale Private Social Club For Couples & Single Ladies Only, located in Atlantic City. Caligula's Temple offers an environment that is dedicated to the art of lovemaking, sexual fulfillment & sexual exploration. We pride ourselves on our no-pressure atmosphere where people can meet friends & make new ones, all the while enjoying themselves.
Swinger Clubs - USA On Premesis Swingers Party
Atlantic City,New Jersey

www.caligulastemple.com/
---
A fun, safe house party thrown by a great couple every month. Some have themes. They are free and usually have between 20-40 pre-screened couples.
Swinger Clubs - USA on premises swinger house party
Parsippany,New Jersey
nj swinger house party group sex Group Sex,Sex Toys,Swinger Advice,Swinger Clubs,Swinger FAQ,Swinger Parties,Swinger Parties NJ,Swinger Party NJ,Swinger Party Parsippany NJ,Swinger Party Pictures,Swinger Pictures,Swingers,Wife Swapping
www.roxllf.net
---
ROLLPLAY LOUNGE is a premium on-premise lifestyle club that caters to couples and single females. ROLLPLAY is the hottest lifestyle lounge in America. Some come to perform. Others come to observe. And here, everyone can unleash their fantasies. ROLLPLAY IS NOT LIKE ANYTHING YOU HAVE EVER VISITED ROLLPLAY has a sensual theme with a laid-back, no-pressure atmosphere. With fresh fruit and rich chocolate, designer decor in a sexy ambiance, two beautiful bars, a perfect mix of mood setting music, and a fully equipped staff that treats each guest like VIP....at ROLLPLAY we pleasure all your senses and inspire the sexy in you. IT IS OUR PRIVILEGE TO HOST YOU AS OUR GUEST AT ROLLPLAY Our staff includes a beautiful hostess dedicated to the comfort of every guest, professional bartenders that will mix your drinks just the way you like, security to ensure your privacy, and a team of sexy barmaids that maintain the lounge impeccably. We offer coat-check service and lockers for your convinience. Locks are available for purchase. ROLLPLAY does not sell alcohol, so bring your best bottles and the bartenders will keep your drinks coming. All ROLLPLAY guests must be 21 and over with valid ID. cover is $65 per person. on saturday nights the doors open at 9 pm, and close at 4 am.
Swinger Clubs - USA on premises swinger club
Atlantic City,New Jersey
swingers club , swingers lounge, adult social club, lifestyle, private swingers parties,
rollplaylounge.com
---
NJ Swingers: Saints and Sinners AC is the newest Swingers Club located in NJ, Atlantic City and New Jersey, etc. Saints and Sinners AC is your one-stop party place.
Swinger Clubs - USA on premises swinger club
Atlantic City,New Jersey
Swingers Clubs Atlantic City, Swingers Clubs New Jersey, Swingers Clubs NJ, Swingers Clubs Ac, swingers Club Atlantic City, Swingers Club New Jersey, Swingers Club NJ, Swingers Club Ac, Swingers Atlantic City, Swingers New Jersey, Swingers NJ, Swingers Ac, Swinger Club Atlantic City, Swinger Club New Jersey, Swinger Club NJ, Atlantic City Swingers Clubs, New Jersey Swingers Clubs, AC Swingers Club, Atlantic City Swinger Clubs, AC Swinger Clubs, AC Swingers Clubs, Atlantic City Swingers Club, Swinger Club Ac, New Jersey swingers, New Jersey swinger clubs, New Jersey swingers clubs
www.saintsandsinnersac.com/
---
Record(s) 1- 8 of 8
New Jersey Swinger Parties by City
Swinging, sometimes referred to as the swinging lifestyle, is "non-monogamous sexual activity, treated much like any other social activity, that can be experienced as a couple."[1] The phenomenon of swinging (or at least its wider discussion and practice) may be seen as part of the sexual revolution of recent decades, which occurred after the upsurge in sexual activity made possible by the prevalence of safer sex practices during the same period. Swinging has been called wife swapping in the past, but this term has been criticized as androcentric (taking a male-oriented point of view) and inaccurately describing the full range of sexual activities in which swingers may take part.
New Jersey Swinger Parties by City
---