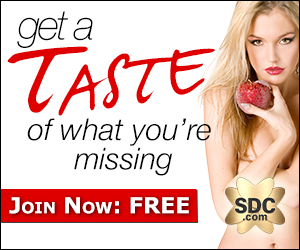 >
sdc.com
Swinger sex parties, orgies, fetish & BDSM clubs, party naked with sexy cheating wives.
[Detroit] Off-premise club for couples only holding private parties held the 3rd Saturday of every month.
Swinger Clubs - USA club
Detroit,Michigan

www.couplesclub.com
---
[Detroit] Off-premise dance club for couples. BYOB. 21+ years.
Swinger Clubs - USA club
Detroit,Michigan

www.sensationsdance.com
---
Club Smooches is A playful swingers dance club and a perfect place for couples to have some Hot Unsophisticated Fun! You will meet Hot-N-Sexy couples that are just like you and me - "Real Couples"
Swinger Clubs - USA off premises swinger club
Flushing/Flint,Michigan

clubsmooches.com
---
After Hours Entertainment is a playful swingers social club and a perfect place for like minded couples to have some FUN! You will meet Hot-N-Sexy couples that are just like you and me - "Real Couples"
Swinger Clubs - USA our club
Bay City,Michigan

aahours.com
---
We are Michigan's gathering place for committed couples interested in meeting other couples with similar interests. We are located in Mid-Michigan and our goal is to provide a place for couples to meet, make new friends, dance, flirt, and tease. We have always believed that this can be done with class, style and good manners . The privacy and peace of mind of our members and guests are number one in our mind. We are an "off-premise" social. This means that we will strongly discourage any illegal public activities that puts you at risk. Our choice of a private hall was done specifically to provide our members with an opportunity to select a setting in which their behavior does not infringe on the rights of any one else at our dance. There is a suggested donation to help us defer the cost of the hall and other amenities. We hope that you will find our approach to be not only refreshing and honest, but in the end the best way to meet new friends.
Swinger Clubs - USA Off-premesis Swingers Club
Flint,Michigan

www.michigancouplesclub.com
---
On-Premise Swing Club for couples, The Meeting Place has a hot tub, 2 sybians, 13 play rooms, dance floor. Parties are BYOB, soda, cups and ice provided.
Swinger Clubs - USA Club
Decatur,Michigan

www.meetingplacemichigan.com
---
Cherry Lane Resort is a clothing optional campground for fun loving people and nudists who like to party naked.
Resorts - USA Nudist Resort
North Adams,Michigan

www.cherrylaneresort.com
---
Detroit/Windsor Premier on-premise upscale Lifestyle club is a private members only facility, designed to provide a safe, comfortable and fun environment open year round, with special parties for Lifestyle couples, single ladies and select single men. The Suite environment provides an opportunity for open-minded people who are involved in or curious about the Swinging Lifestyle to meet, dance and socialize in a drug-free safe environment. The Suite is located just minutes from downtown Windsor and Detroit offering the very finest in on premise entertainment. You'll love the privacy, themed playrooms and sexy couples. Dance the night away with your partner, soak in the hot tub, join in the erotic activities, or simply enjoy the sensual atmosphere.
Swinger Clubs - Canada club
Detroit,Michigan

www.thesuiteinc.com/
---
Zita's Lounge is interested in hosting functions at its cozy lounge
Swinger Clubs - USA off premises swinger club
Hamtramck,Michigan

www.zitaslounge.com
---
We at Fullmoon Seductions put our all into every event to make it one of a kind. Our sensually themed parties are by invite only. We invite both swingers who love to play and new swingers who want to graduate from the traditional off-premise club atmosphere. All guests are prescreened before receiving an invite to insure that they are seriously interested in the lifestyle, weed out couples who may be disruptive to the party and preserve the discreetness of our attendees. We only invite drama free couples and single females who are interested in erotic play and understand the lifestyle. We only admit committed couples and single females who have RSVP'd for that evening's event. The Forest Club itself is one of only two permanent on-premise swing clubs in Metro Detroit, the other being the Schvitz. Unlike a house or hotel party, we are able to offer a venue designed from the ground up for the lifestyle. The upscale venue features 14 cozy private rooms, a dungeon area equipped with the forest club sex swing and bend'me over mount, 3 spacious washrooms and 2 group sex areas .
Swinger Clubs - USA on premises swinger club
Detroit,Michigan

www.eroticforest.com
---
Record(s) 1- 10 of 12
Michigan Swinger Parties by City
Swinging, sometimes referred to as the swinging lifestyle, is "non-monogamous sexual activity, treated much like any other social activity, that can be experienced as a couple."[1] The phenomenon of swinging (or at least its wider discussion and practice) may be seen as part of the sexual revolution of recent decades, which occurred after the upsurge in sexual activity made possible by the prevalence of safer sex practices during the same period. Swinging has been called wife swapping in the past, but this term has been criticized as androcentric (taking a male-oriented point of view) and inaccurately describing the full range of sexual activities in which swingers may take part.
Michigan Swinger Parties by City
---