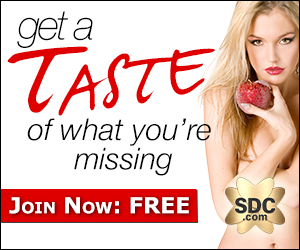 >
sdc.com
Swinger sex parties, orgies, fetish & BDSM clubs, party naked with sexy cheating wives.
[Ft. Myers] Website for couples-only swingers club.
Swinger Clubs - USA club
Ft. Myers,Florida

www.clubtblswingers.com
---
[Boca Raton] Swingers Dance Club with a live DJ providing music. Juice bar available, but bring your own liquor.
Swinger Clubs - USA club
Boca Raton,Florida

www.clubchic.com
---
[Ormond Beach] Invitation only swing party at local club/restuarant for couples and single females. Includes food, music, and dancing.
Swinger Clubs - USA club
Ormond Beach,Florida

www.theclubkrave.com
---
[Pensacola] Couples only; meets every 4th Saturday of the month except in December.
Swinger Clubs - USA club
,Florida

www.lasocial-club.com
---
[Daytona Beach] Private, upscale, 3,000 sq. ft. club located on Florida's East Coast, featuring multiple party rooms.
Swinger Clubs - USA club
Daytona Beach,Florida

www.amoreclubusa.com
---
[Lakeland] Club in a private home located on 4 1/2 acres. Parties for couples and singles or couples only.
Swinger Clubs - USA club
Lakeland,Florida

www.centralflpartyhouse.com
---
[Ft. Lauderdale] Elegant, private, intimate club for sophisticated couples, bi-females and select singles.
Swinger Clubs - USA club
Ft. Lauderdale,Florida

www.clubhedonism.com
---
[Pompano Beach] Luxurious, private, full-service retreat serving couples and select singles for over 20 years.
Swinger Clubs - USA club
Pompano Beach,Florida

www.deenieshideaway.com
---
[Orlando] Swingers retreat located in Central FL. Couples, single ladies, and select gentlemen welcomed.
Swinger Clubs - USA club
Orlando,Florida

www.jdnsandras.com
---
[Orange City] Located on 5 acres about 30 minutes northwest of Orlando. Parties are every Tuesday and Friday night unless otherwise specified.
Swinger Clubs - USA club
Orange City,Florida

www.jeaniesoutback.com
---
Record(s) 1- 10 of 86
Florida Swinger Parties by City
Swinging, sometimes referred to as the swinging lifestyle, is "non-monogamous sexual activity, treated much like any other social activity, that can be experienced as a couple."[1] The phenomenon of swinging (or at least its wider discussion and practice) may be seen as part of the sexual revolution of recent decades, which occurred after the upsurge in sexual activity made possible by the prevalence of safer sex practices during the same period. Swinging has been called wife swapping in the past, but this term has been criticized as androcentric (taking a male-oriented point of view) and inaccurately describing the full range of sexual activities in which swingers may take part.
Florida Swinger Parties by City
---